Problems such as defective adhesion, surface clouding, changes in wettability, discoloration, and printing defects may occur due to impurities deposited or present on the surface of products or organisms. TOF-SIMS analysis can be effectively used as a method for investigating the cause when symptoms such as this occur. This method measures molecule ions, fragment ions, and atomic ions released from the sample surface, and thus it is possible to detect not only metals, but also organic material.
Test Items / Testing / Substances
Examples of various applications
| Samples | Examples of analysis |
| --- | --- |
| Polymer, etc | Qualitative determination of bleed material on resin surface, analysis of fish-eye in resin film, investigation of the cause of printing defects on film surface, qualitative determination of pigment dispersant in highly-functional paper |
| Wafer chips | Checking for presence of residues such as resist, cleaning solution, stripping solution, or abrasive, etc., investigation of the cause of resist stripping, investigation of the cause of solder wettability, analysis of material transferred from tape, rubber, sheet, etc., investigation of the cause of discoloration, investigation of the cause of defects in bonding strength, qualitative determination of various types of foreign matter |
| Lead frames | Investigation of the cause of discoloration, qualitative determination of foreign matter |
| Optical materials | Investigation of the cause of clouding of stepper lens and mirror surfaces, analysis of foreign matter on optic fiber surfaces |
| LCD | Investigation of the cause of abnormal display (stains, unevenness, cissing) |
Measurement example
Example 1: Hair cross-section
A hair cross-section was prepared, and information such as the following was obtained by analyzing using TOF-SIMS.
With the rinse product, siloxane penetrates to the inside of the hair.
Stearyl trimethylammonium (312+) is present only in the cuticle.
284+ (Stearic acid amide) is plentiful in the cuticle, and has greater thickness than 312+.
This sort of analysis is impossible with other techniques.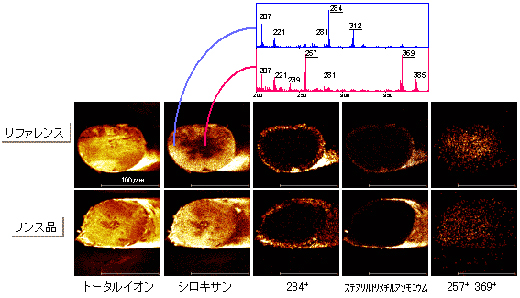 Example 2: Analysis of automobile paint coating (additives)
One major feature of TOF-SIMS is its ability to detect organic fragment ions. Element mapping is also possible with EPMA, but only TOF-SIMS can confirm, as in this example, the organic components of the contained additives, and their state of distribution.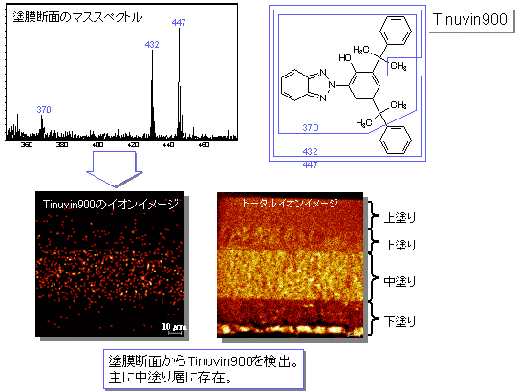 Technical News
Contact Us for Services
For inquiries and requests concerning services of analysis, measurements, products and consulting , please feel free to contact us via inquiry form or telephone/fax .
Telephone
FAX

+81-3-5689-1222