Based upon extensive experience accumulated over many years we can manage a broad range of conditions, formulations, regulatory requirements and other requirements related to stability tests.
Features
SCAS has a long history of meeting demands for stability tests related to a diverse range of pharmaceutical ingredients and drug products. Stability tests are efficiently conducted in accordance with various guidelines (Japanese regulation for approval application, cGMP), with reliable data supplied in a format appropriate for application purposes.
Long-term storage tests, accelerated tests, stress tests, intermediate tests, etc.
Specification analysis
Sample storage
Paper-based compliance inspection support
Testing system
Japanese regulation for approval application
Compliance with cGMP
Facilities
Sample storage (5℃)
Accelerated test (40℃-75%RH)
Long-term storage test (25℃-60%RH, 30℃-75%RH)
Light irradiation test equipment (D65 lamp)
Intermediate test (30℃-65%RH)
Other test conditions available upon request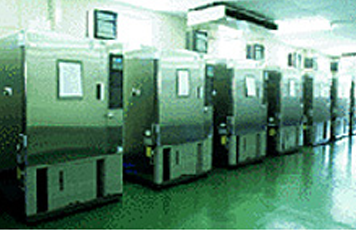 Our Experience
Number of contracted companies More than 40
Test items Over 300 items
Formulation Tablets, capsules, granules, fine grains, powdered medicine, injections, additives, liquid medicines, ointments, suppositories, aerosols, adhesives, drug ingredients
Inspection by regulatory authorities Presence with Ministry of Health, Labour and Welfare onsite paper-based compliance inspection (numerous cases)
Technical News
Contact Us for Services
For inquiries and requests concerning services of analysis, measurements, products and consulting , please feel free to contact us via inquiry form or telephone/fax .
Telephone
FAX

+81-3-5689-1222