Background / Related Laws / Regulation / Revision
Exhaust gas, incinerated ash and fly ash measurements
The Law Concerning Special Measures against Dioxin was enacted to reduce the total emissions of exhaust gases in Japan, however incinerators still form the largest source of emissions and regular measurements are required.
Environmental air and water measurements
Measurements are conducted at site boundaries, immediately downstream from water discharge points and other regular observation points.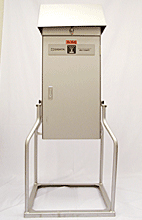 Features / Advantages of Our Company
Fast turnaround times under a stringent precision control system.
Certified as a designated measurement laboratory for dioxins in the air and soil by the National Institute of Technology and Evaluation (NITE).
Contact Us for Services
For inquiries and requests concerning services of analysis, measurements, products and consulting , please feel free to contact us via inquiry form or telephone/fax .
Telephone
FAX

+81-3-5689-1222