Measurement of gas permeability for barrier films and seals
Organic device deterioration can result from a range of factors, including water vapor and oxygen. In response to these sources of deterioration, it is important to conduct a high sensitivity evaluation of the ability of barrier films or seals (that seal or bind structures) to protect devices from gases. We use a range of methods to evaluate water vapor permeability that are compatible with ISO15106, such as the APl-MS method which is capable of evaluating at the level of 10-6 g/m2/day. We can also measure the permeability of corrosive gases such as hydrogen sulfide and acetic acid.
Test Items
We provide a range of water vapor permeability evaluation services to suit your goals, from high-sensitive evaluation to screening. Our unique knowledge of these techniques allows us to evaluate permeability of seals and corrosive gases such as hydrogen sulfide and acetic acid.


Principle
The sample is inserted between two cells. Supply gas is blown into one cell, while ultra high-purity gas is blown into the other. The concentration of the gas that permeates is then measured to evaluate the permeability per unit of time and area.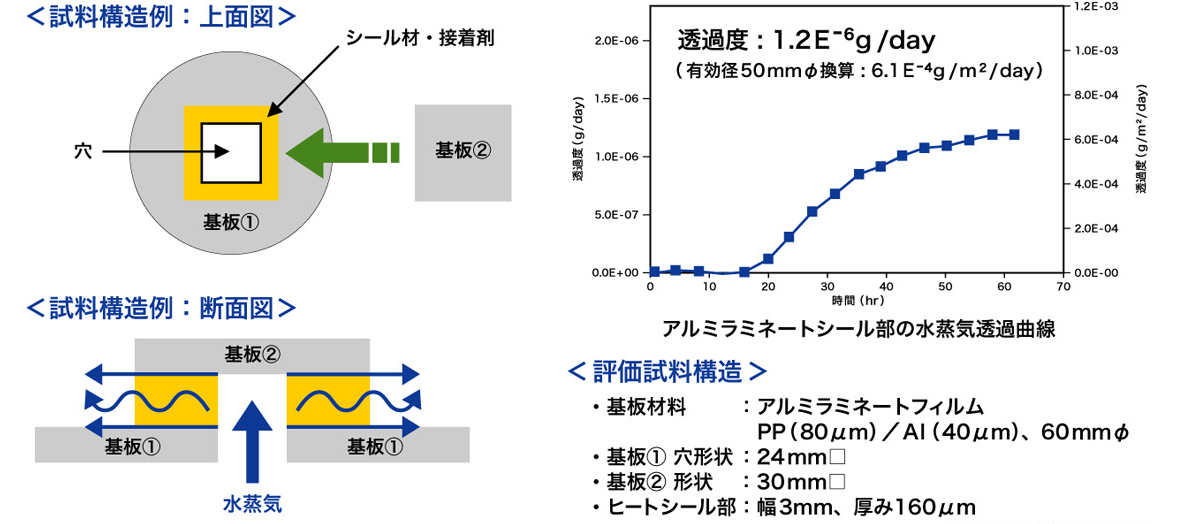 Technical News
Contact Us for Services
For inquiries and requests concerning services of analysis, measurements, products and consulting , please feel free to contact us via inquiry form or telephone/fax .
Telephone
FAX

+81-3-5689-1222