We contribute to society through our science-based analysis, evaluation and related technologies.
SCAS is your total solution partner for analysis, assay and evaluation. As one of the largest comprehensive analysis companyies in Japan, for nearly half a century we have continuously created new values our customers want, based on our analysis and related technologies that cover a wide range of fields.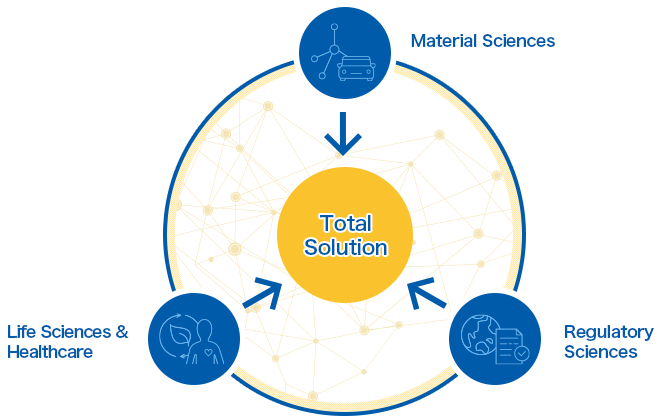 Life Sciences & Healthcare
We offer a wide range of comprehensive services by leveraging our strength based on highly reliable total solution chemical techniques that have evolved over many years for analysis and evaluation in various fields such as medical products, healthcare, global environment, food and comfortable living.
Material Sciences
Our advanced physical and chemical analysis techniques resolve a range of issues faced by our customers—from manufacturing research and development, to manufacturing and quality control.
Regulatory Sciences
We can provide services to support registration application for Japan-EU-U.S.-Asia quadrulateral chemical regulations, and regulations related to pharmaceutical products and medical devices. We can also provide strategic consulting services on required tests for application.
Advantages of SCAS
Providing optimal solutions based on advanced analytical and evaluation technologies
Providing analytical and evaluation services that cover all phases of the product life cycle (from R & D, manufacturing, registration, and marketing to disposal)
Solving problems by harnessing the combined abilities of a diverse range of specialists
Assisting our customers in global operations through our overseas business bases
A corporate culture that values customer trust and confidence