We offer services from preliminary survey to registration applications on REACH.
The new EU regulation on chemical substances called "REACH" which is an abbreviation of Registration, Evaluation, Authorization and Restriction of Chemicals, was put into effect on June 1, 2007. This law requires registration of a chemical that is imported to the EU in a quantity of one ton or more per year. It also stipulates notification / registration of a chemical substance of Intentional Release or a substance of very high concern (SVHC) included in a product. Based on our 17-year experience and performance in the consulting business in and outside of Japan, we offer our "One-stop Shop" services from REACH related consulting to notification / registration. Please feel free to contact us.
Regulation
Registration, Evaluation, Authorisation and Restriction of Chemicals, EC No 1907/2006)

Our sevices
"One-stop Shop" services with Experts
Specialists in EU and Tokyo
-Through our 17-year experiences in new chemical notifications in many countries around the world, we have established consultant partners, lobby groups and law firms also in the EU.
-To solve difficult legal or regulatory problems, we offer the strategy we consider the best for you with supports from our consultant partners and law firms.
Proposal on strategic approaches to registration
Data gap analysis / Preparation for scientific and theoretical approaches by specialists -Strategic approaches proposed by specialists for REACH registration based on your business strategy.
The first EU legal entity "SCAS Europe" as a Japanese capital corporation Only Representative / Japanese-language service for Japanese clients
Negotiations by toxicology specialists at SIEF Our toxicologists, will participate in the SIEF for negotiations.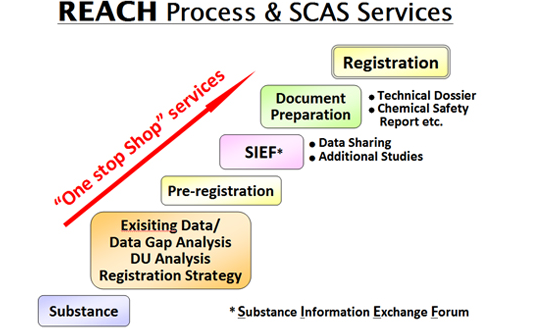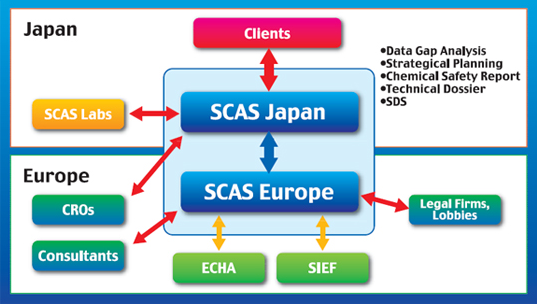 Contact Us for Services
For inquiries and requests concerning services of analysis, measurements, products and consulting , please feel free to contact us via inquiry form or telephone/fax .
Telephone
FAX

+81-3-5689-1222