An issue of paint film PCB
Lead and chrome have been used as anticorrosive pigment starting with polychlorinated biphenyl (PCB) for anticorrosion painting of steel structutes commencing with bridge. With deterioration thereof, when carrying out a coated film peeling work, it is hoped to give consideration to appropriate waste disposal and surrounding environment, commencing with prevention of exposure to workers.
We make a related investigation starting with a toxic substance analysis such as these PCBs.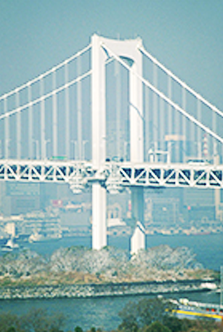 Analysis methods of PCB in pait films
Purpose analysis method feature preliminary survey content test pretreatment: Compliant with "Measuring method related to low concentration PCB containing waste (second version)" (Ministry of the Environment on September in 2014). Measurement: Compliant with high resolution GC-MS method high-sensitive waste determination elution test "Detecting method of metal and so on contained in industrial wastes" (1973 Environment Agency Notification No.13)
Contact Us for Services
For inquiries and requests concerning services of analysis, measurements, products and consulting , please feel free to contact us via inquiry form or telephone/fax .
Telephone
FAX

+81-3-5689-1222