Evalution Examples of Contact Lenses
Observation of pigments distribution in color contact lenses, observation of edge shape of contact lenses(cross section) :Fig.1
Using microscope, we can observe the cross section of swollen state soft contact lenses in physiological saline.

Pigments distribution
Fig.2 shows expansion of part A and B of Fig.1. Distribution and presence of pigments can be observed. In this example, the pigments are presented about 100µm thickness at the side of eyelid. We perform size measurement of outer and inner diameter of colored part, and leachable materials test.

Microscopic observation of edge part
Fig.3 shows expansion of part C of Fig.1. The edge shape affects irritation to cornea and movement characteristics in eyes, it is important to control the edge shape of contact lenses.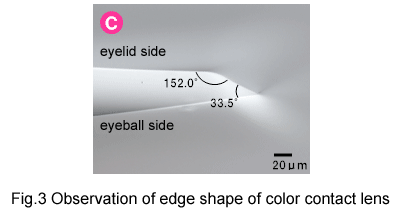 Tensile test (physical characteristics and mechanical testing) on soft contact lenses
A tensile test is one of the items required for approvals of soft contact lenses. (Fig.1)
We can test the tensile strength of curve-shaped products without producing flat plates made of lens materials. In this test, the tensile of used sample is lower than the new one.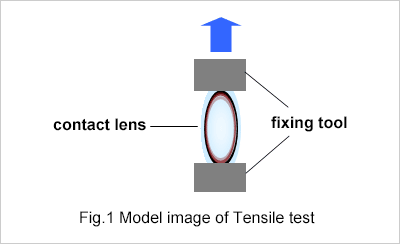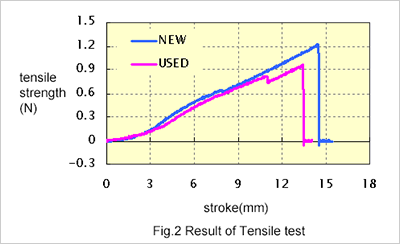 Other tests for soft contact lens required for approval
We provide various tests required for approval related to soft contact lenses and non-corrective contact lenses in short time. We promote the improvement of technologies by introduction of oxygen permeability equipment for soft contact lenses using electrode method.
demand items
testing items
cited standards
physical characteristics
Shape and outward appearance
ISO 18369-3
Diameter
ISO 18369-3
Thickness
ISO 18369-3
Base curve
ISO 18369-3
Vertex diopter
ISO 18369-3
JIS B 7183
Luminous transmittance
ISO 18369-3
JIS Z 8722
Oxygen permeability coefficient
ISO 18369-4
Strength
JIS K 7127
(JIS K 7113)
Refractive index
ISO 18369-4
(JIS K 7105)
Water content
JIS K 7209
ISO 18369-4
Cylindrical refractivity and cylindrical axes
JIS B 7183
Prism error
JIS B 7183
chemical characteristics
Extractables
ISO 18369-4
Monomer residue, additives, colorants
 
disinfectant compatibility
Test for leaching of monomer components, colorants and UV absorbents, Residual property, accumulation, leachability of chemical disinfectant to lens,
PAB Notification No.645 dated March 31, 2011
biological characteristics
Cytotoxicity
JIS T 0993-1
Sensitization
JIS T 0993-1
Irritation/intracutaneous reactivity
JIS T 0993-1
Ocular study using rabbit eyes
ISO 9394
Genotoxicity
JIS T 0993-1
demand for stability
Product stability test
ISO 11987
Technical News
Contact Us for Services
For inquiries and requests concerning services of analysis, measurements, products and consulting , please feel free to contact us via inquiry form or telephone/fax .
Telephone
FAX

+81-3-5689-1222