SUMIGRAPH NC-22 series has evolved into NC-TR22.
SUMIGRAPH NC-TR22 is applicable for a wide range of samples, including soils, fertilizers, plants, industrial products, compounds, and processed foods. Our proprietary fuel technology "oxygen circulatory combustion method" allows thorough combustion of samples with a large organic content or complex matrix without using combustion improver. While combusting, the system highly homogenizes the combustion gas and leads a part of it to a detector, which reduces the consumption degree of consumables. Additionally, the system collects combustion residues to reduce the down time for system maintenance.

These features realize a high rate of operation and low running costs. This system was developed to achieve highly accurate, simple, swift and reliable analysis with low running cost from customers' viewpoints. SUMIGRAPH NC-TR22 is highly recommended for research, development, and quality control.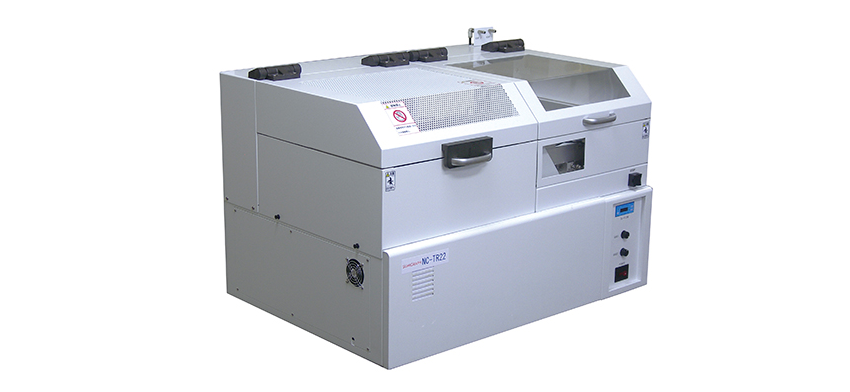 Features of SUMIGRAPH NC-TR22
Both the apparatus width and weight have been downsized.
Through various technology innovations, downsizing of about 20% and 30% has been successfully realized for the width and for the weight, respectively, compared to conventional models.
Full automation
The system comes with an automated sampler to which 72 samples can be set.
Continuous automated assay starts simply by setting a boat with weighed sample to the automated sampler and pressing the start button.
High sensitivity and broad assay range (characteristic of the GC/TCD method)
High accuracy assay can be made for a broad range. [Nitrogen: 0.005-100% (0.005-30 mg), carbon: 0.002-100% (0.005-35 mg)]
Simple sampling and weighing
Sampling is extremely simple and easy; you just place the sample on the boat – no need to mix with combustion improver or seal it. Additionally, the boat can be used repeatedly, contributing to reducing the running cost.
Since a large portion of sample is used for combustion reaction, an adequate assay accuracy can be achieved by weighing using scales with a reciprocal sensitivity of 0.1 mg (1 or 0.01 mg depending on the sample).
Minimal maintenance, effective analysis
The reduced copper and moisture absorbent can be used for 600-800 times and 2000-3000 times successive measurements, respectively. Additionally, combustion residues are automatically collected immediately after the combustion, which enables checking the post-combustion status. That also helps in reducing the time required to stop the apparatus for maintenance, realizing a high rate of operation.
The circulation system piping is unitized and controls are consolidated into one board. With these, maintainability has been improved.
Further, SUMIGRAPH NC-TR22 uses a dry combustion method. Free from liquid waste, it can be used efficiently and economically by cutting the labor and cost involved with treatment of liquid waste.
SUMIGRAPH NC-TR22 is a clean assay system with minimal environmental contamination.
SUMIGRAPH NC-TR22 does not generate phosphate mist like the Kjeldahl method does. Since there is no need to worry about contamination of work environment and surrounding areas, it can be used without installing incidental equipment such as fume hoods or scrubbers.
Consumption of reduced copper and absorbents is minor, helping in minimizing generation of waste.
Related products
※Specifications and external appearance are subject to change without notice.
Contact Us for SUMIGRAPH (nitrogen, carbon and hydrogen analyzer with oxygen circulationg combustion system)
Please contact us for any information on SUMIGRAPH, such as equipment, consumables, maintenance.
Tokyo Sales Office, Scientific Instruments Group
Telephone
FAX

+81-3-5689-1222