Features
Sampler for aldehydes etc. for an indoor environment.
Able to accurately measure acrolein and crotonaldehyde.
Realizes low blank values and accurate measurement for low concentration samples.
Able to make highly accurate and highly sensitive measurement by HPLC (UV 240 nm).
On July 13, 2007, designated as "instrument separately specified by the Minister of Health, Labour and Welfare".
CNET – Aldehyde derivatives are stable for about 1 month when refrigerated (5°C).
Legal regulations and background
Various acts (*) stipulate the formaldehyde concentration in the air inside a new or reformed building to be less than the Ministry of Health, Labour and Welfare guidance value (< 80 ppb).
※Housing Quality Assurance Act (August 2001)
※Act on Maintenance of Sanitation in Buildings (April 2003)

※Building Standards Act (July 2003)
Conventionally, precise measurement of formaldehyde concentration was commonly conducted by derivatizing and capturing it by 2,4-Dintrophenylhydrazine (DNPH), and quantifying the derivative by high performance liquid chromatography (HPLC). This DNPH and its aldehyde derivatives have adverse health effects on human such as mutagenicity. As a method to solve such health issues, SCAS developed the aldehyde capture sampler CNET-A and CNET-P. They are samplers using (4-cyano-2-ethoxybenzyl)hydroxylamine (CNET) as the capturing agent that reacts with aldehydes (ketones).
Principle: Reaction formula between CNET and aldehydes (ketones)

Product lineup
SUMICATCH CNET-A (active sampler)
This is an active sampler for aldehydes etc. in the environmental air.
・Able to accurately measure acrolein and crotonaldehyde.
This sampler and a pump (separately sold) are needed to use SUMICATCH CNET-A. Make sure to apply an ozone scrubber and protect from the sunlight (e.g., covering with aluminum foil) when collecting the air outdoors.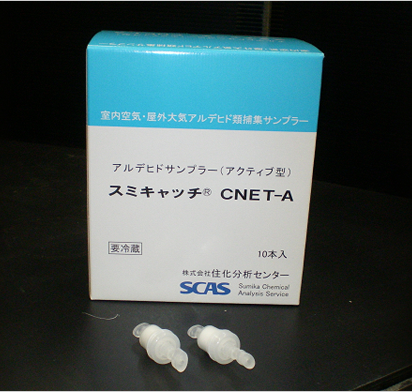 Contact Us for Services
For inquiries and requests concerning services of analysis, measurements, products and consulting , please feel free to contact us via inquiry form or telephone/fax .
Telephone
FAX

+81-3-5689-1222