general-purpose ODS columns
The SUMIPAX ODS A series is general-purpose ODS columns that have hydrophobic end-capped surface structure easily applicable for separating a wide range of compounds. Additionally, it provides steady reproducibility for alkaline compounds and acidic compounds. Highly versatile products usable in various fields such as the environment and chemical industry, in addition to analysis of drugs, agricultural chemicals, food and biological substances.
Product specification
SUMIPAX ODS
Particle size
(μm)
Pore size
(Å)
Specific surface area
(m2/g)
Pore volume
(mL/g)
Carbon content
(%)
Useful pH range
Metal impurities
(ppm)
A series
5
120
300
1
17
2.5~7.5
Both elements
less than 10ppm
Performance evaluation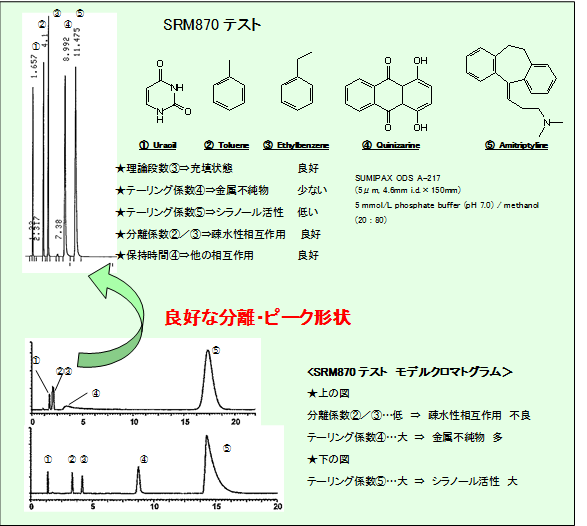 Applications
Water soluble vitamins (B vitamins)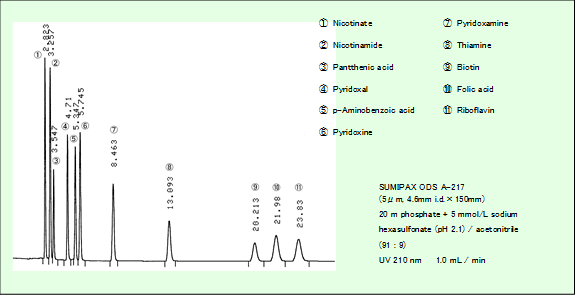 Rhinitis drugs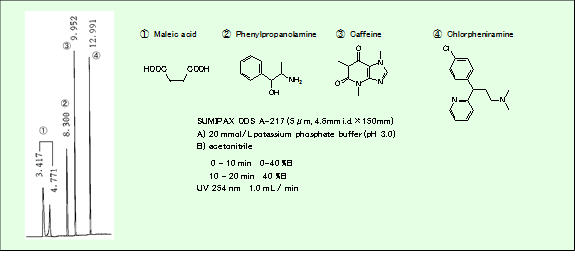 Product list
Product nameSUMIPAX ODS
Internal diameter (mm)
Length(mm)
Product code
A-216
4
150
AA216-4015W
A-217
4.6
150
AA217-4615W
A-211
4.6
250
AA211-4625W
A-215
6
100
AA215-6010W
A-212
6
150
AA212-6015W
A-214
6
300
AA214-6030W
A-213
10
250
AA21310025W
LC-MS size
A-210MS
2
150
AA210M2015W
Solvent saving size
A-210EC
3
150
AA210E3015W
※

Please use SUMIPAX Filters for guard columns
Catalog list
Contact Us for HPLC Columns
Please contact us for any information on related to HPLC columns.
Materials Division (Column Sales Team)
Telephone
FAX

+81-6-6466-5255