Exhibits high resolution for recognizing Positional isomer
For SUMIPAX DI-NO2 SG, 3,5-dinitrophenyl group is bound to silica gel by covalent bond via a spacer, useful for recognizing positional isomer of aromatic compounds and substances with unsaturated bonds.
It is usable for both normal phase and reversed phase systems.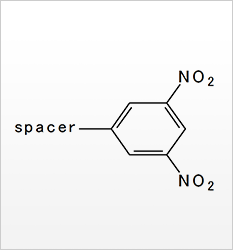 Product specification
Product name
SUMIPAX
Separation mode
Functional group
Particle size
(μm)
Pore size
(Å)
Main target compounds
DI-NO2 SG-05 series
Normal and reversed phase
3,5-dinitrophenyl
5
120
positional isomer of aromatic compounds
Applications
Positional isomer (terphenyl)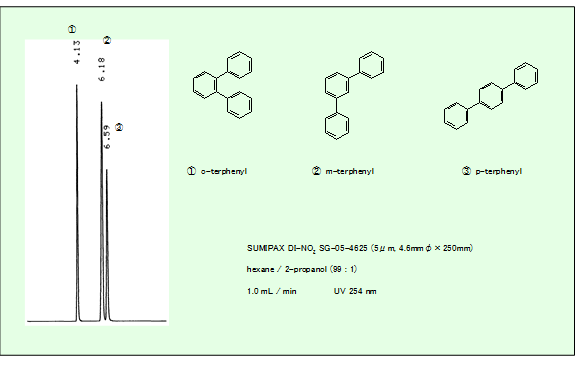 Product list
Particle size
(μm)
Product name
SUMIPAX
Internal diameter
(mm)
Length
(mm)
Product code
5
DINO2 SG-05-4625
4.6
250
ASG05-4625W
DINO2 SG-05-20025
20
250
ASG0520025W
※

Note : Please use SUMIPAX Filters for guard columns
Catalog list
Contact Us for HPLC Columns
Please contact us for any information on related to HPLC columns.
Materials Division (Column Sales Team)
Telephone
FAX

+81-6-6466-5255