Separation characteristics different from ODS
The SUMIPAX CN R-05 series is columns for which high purity silica gel chemically bound with cyanopropyl group and end-capped is pressure filled as the packing materials, usable for both normal phase and reversed phase systems. For their neutral CN group, they offer separation characteristics different from ODS-bound columns.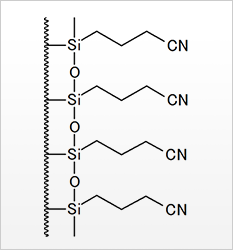 Product specification
Product name
SUMIPAX
Separation mode
Functional group
Particle size
(μm)
Pore size
(Å)
Main target compounds
CN R-05 series
Normal and reversed phase
CN
5
120
Alcohols, aldehydes, steroids etc
Applications
Steroid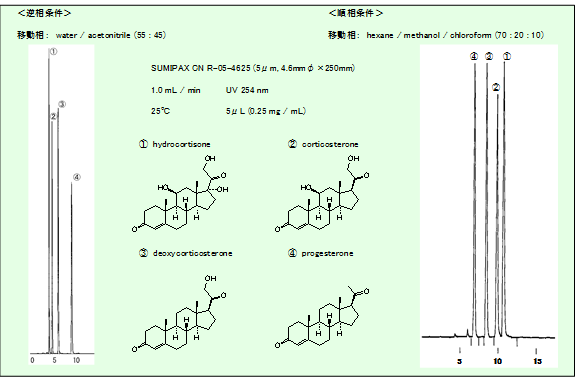 Product list
Particle size
(μm)
Product name SUMIPAX
Internal diameter
(mm)
Length
(mm)
Product code
5
CN R-05-4015
4
150
R-05-4015W
CN R-05-4025
250
AR-05-4025W
CN R-05-4615
4.6
150
AR-05-4615W
CN R-05-4625
250
AR-05-4625W
※

Note : Please use SUMIPAX Filters for guard columns
Catalog list
Contact Us for HPLC Columns
Please contact us for any information on related to HPLC columns.
Materials Division (Column Sales Team)
Telephone
FAX

+81-6-6466-5255